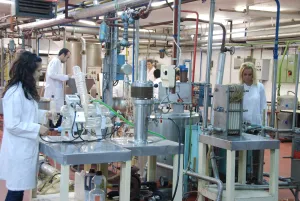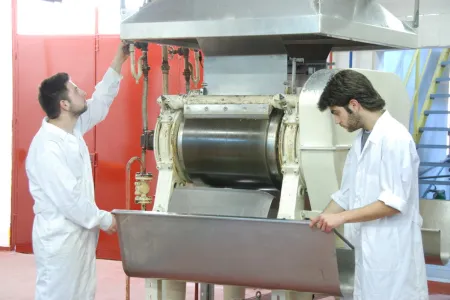 Premises
The FPLE facilities occupy an area of approximately 1000 square meters.
It is divided into the following sections:
Dairy processing and multipurpose engineering equipment.
Fruit & vegetable processing.
Meat processing.
Cereal processing.
Fish processing.
Vegetable oil processing.
Wine making.
Freezing.
Canning.
Drying.
Cold store, area 5 m2 (4.0oC).
Frozen store, area 8 m2 (-18oC).
Texture studies room.
Research and development of scientific instruments room.
Reagents – spare parts – chemicals stores.
Boiler house.
Machine workshop.
Electrical and electronics workshop.
List of Processing Equipment
Multipurpose engineering equipment
Heat transfer studies apparatus, by E.I.V.S France, comprising a pyrex glass/stainless steel single tubular heat exchanger and a similar pyrex glass/glass complete with rotameter, control panel and temperature recorder.
Fluid mechanics studies apparatus, by E.I.V.S France, made of pyrex glass, comprising of, a centrifugal pump, a Reynolds experiment system, a rotameter, a Venturi, an orifice and several pipes of various materials and diameters. The friction pressure drop of each accessory is individually monitored through an electronic measuring system.
Separation processes equipment
Plate and frame filter press, by Haku, Germany.
Centrifugal separator/clarifier, by Alfa-Laval ,France.
Horizontal plate and frame reverse osmosis/ultrafiltration apparatus by DDS-Denmark.
Vertical plate and frame ultrafiltration apparatus, by Rhone-Poulenc, France.
Electrodialysis apparatus with control panel and process parameter recorders , by S.R.T.I.,France.
Fractional distillation column unit with alternative use of a column filled with or without stainless steel packing material, complete with control panel and monitoring systems of temperature and reflux ratio, by E.I.V.S France.
Double effect falling film evaporator of 100 l/h evaporative capacity, by Alfa-Laval, Sweden, operating under pressures down to 100 mbars, with fully computerized control system built by FPEL.
Drying equipment
Spray drier of 50 l/h evaporative capacity, by Niro, Denmark.
Double drum drier, by G.M.F. Gouda, The Netherlands.
Tray drier with drying rate monitoring system, by APEX, G.Britain.
Fluidized bed drier, with feeding, dehumidifier and temperature control system, by NEU, France.
Osmotic dehydration unit, built by FPEL.
Multipurpose pilot freeze-drier.
Canning equipment
Vertical canning retort with temperature chart recorder, by Webeco ,Germany.
Rotary sterilizer, Hydrolock simulator type, for can sizes from 100 g to 5000 g, with control panel and temperature controller, by C.B., France.
Horizontal pressure cooker-cooler, by Korimat, Germany.
Two manual seamers for 5 and 1 kg cans, by LANICO, Germany.
Electrical seamer for can sizes from 0.5 to 5 kg, by HENRI BIAUGEAUD, France.
Jar closer of any size of jars, by HENRI BIAUGEAUD, France.
Freezing equipment
Liquid nitrogen tunnel, capacity 300 kg/h, by AIR LIQUIDE, France.
Laboratory type liquid nitrogen freezer, programmable, with temperature recorder and a 100 l capacity Dewar flask, by NICOOL, France.
Fluidized bed freezer, minimum temperature -45oC,built by FPEL.
Immersion freezer, minimum temperature -20oC, built by FPEL.
Dairy processing equipment
Two complete lines of milk homogenization-pasteurization-cooling, capacity 160 l/h. One pressure homogenizer is of single valve ,by ALM, France and the other is of double valve by MATTERSON, G.Britain, the plate heat exchangers are by VICARB, France.
Cream separator, capacity 160 l/h, by WESTFALIA, Germany.
Complete cheese making line, by SORDI, France.
Plate and frame ultrafiltration/reverse osmosis unit, BURTON CORBLIN, France.
Two yogurt making double jacketed agitated vessels, capacity 160 l/h, by PIERRE GUERIN, France.
Ice cream making machine
Butter churn, by BURR, Italy.
Meat processing equipment
Meat cutting wooden table.
Meat cuter, by KRAMER GREBE, Germany.
Vacuum sausage filler, by WEMAG, Germany.
Colloid mill, by PUC, Germany.
Ham making vacuum tumbler.
Meat mincer.
Salami prematuration chamber.
Dual purpose maturation chamber for fermented and for cooked sausages with control panel, by ROUMELIOTIS, Greece.
Smoking cabinet, fully automated, by ROUMELIOTIS, Greece.
Fish processing equipment
Two stainless steel benches with sinks for cleaning and gutting the fish.
Cabinet drier.
Film heat sealing vacuum packaging machine.
Fruit & vegetable processing equipment
Rotating screen drum washer, by HENRI BIAUGEAUD, France.
Juice extractor, by HENRI BIAUGEAUD, France.
Stone remover, by HENRI BIAUGEAUD, France.
Vegetable chopper, by HENRI BIAUGEAUD, France.
Mechanical potato peeler, by HENRI BIAUGEAUD, France.
Refining screen skin and seeds separator(finisher), by HENRI BIAUGEAUD, France.
Juice deaerator, by BUSCH, France.
Screw steam blancher, by CLERELY, France.
Multipurpose cutting, dicing, slicing machine, by SOLIA, France.
Two fruit maturation chambers.
Controlled CO2 chambers.
Wine making equipment
Grape declusterer.
Mechanical grape press juice extractor, by ARIETTE, France.
Mobile filter press with preparation tank for wine clarification, by LAFERT, France.
Three stainless steel tanks for wine storing.
CO2 filler for carbonizing soft drinks and beverages.
Cork bottle closer.
Cereal processing equipment
Laboratory flour mill, by CHOPIN, France.
Hammer mill.
Mobile hammer mill, suitable for wet milling, by APEX, G.Britain.
Hammer mill with cyclone dust separator, by PROMIL, France.
Electrical oven, by NEFF, Germany.
Pasta making single screw extruder, by NUOVA LAMPA, Italy.
Two sets of scientific sieves, by PROLABO, France.
Alveograph, by CHOPIN, France.
Zymotachygraph, by CHOPIN, France.
Two trieur cylinders for grain size separation, by CHOPIN, France.
A set of grain classification screens.
Electrical conductivity moisture content determination apparatus.
Extensiongraph – farinograph, by MAX EGGER, Austria.
Viscoamylograph, by MAX EGGER, Austria.
Twin screw cooker extruder, model BC45, by Clextral, France, with in line attached slit rheometer, built by FPEL and monitored by computer.
Moisture determination oven.
Vegetable oil processing equipment
Complete olive oil extraction unit, capacity 250 kg olives/h, comprising, an olive crusher, an olive pulp malaxator, a metering pump, a Decanter, by ROBATEL, France and a centrifugal clarifier, by WESTFALIA,Germany.
Complete oil refining line comprising a caustic soda oil neutralization unit, a vacuum decolourizer and a vacuum deodorizer, built by FPEL.
Oil hydrogenization unit.
Biotechnology equipment
Sets of fermenters, capacity 1 L.
Fully automated fermenter capacity 20 L, with control panel, by BIOLAFITTE, France.
Selfsterilizable mobile fermenter, capacity 500 L, with control panel, by BIOLAFITTE, France.
All processing equipment are accompanied by ancillary equipment such as pumps, balance tanks etc.
Miscellaneous equipment
Agitating double jacketed vessel for studying mixing of liquids, built by FPEL.
Water chilling unit (60oC).
Water demineralization unit, by PROSOFT, France.
Steam generating unit , capacity 2 tons steam/h, by IFESTOS A., Greece.
STEFAN apparatus for the production of processed cheeses and sauces.
Microwave oven with temperature measurement, by MIELE, Germany.
Instron Universal Testing Machine, table model 1140, capacity from 50 to 500000 g, equipped with digital data acquisition system made by FPLE.
Tristimulus micro colour meter by Dr Lange, Germany.
A series of viscometers such as Ubbelohde suspension level capillary viscometers, falling sphere viscometer, cone and plate and spindle Brookfield
Ancillary Services
The plant is equipped with utility networks of compressed air (6 bar), steam (8 bar), tap water, hot water, soft water and chilled water (8oC).